Who hasn't heard of ChatGPT? OpenAI's smart bot ChatGPT continues to attract millions all around the world. The platform broke the record in monthly user growth and shook the search engine world deeply. It has become a popular resource for companies and end users. Its new version, ChatGPT-4, has already met Internet users. Competitors start to take the scene as well. It looks like the Generative AI competition will be a big battlefield in the coming days.
ChatGPT is becoming a commonly used tool in marketing. It is already a valuable resource, especially in content marketing and SEO. This article will examine how we can achieve good results in omnichannel marketing and automation with ChatGPT.
How Can ChatGPT Empower Omnichannel Marketing Strategies?
Omnichannel marketing is the most important strategy feature for seamless experiences. Today, end users reach brands through various channels. Among these channels, digital ones come to the fore. Companies with a good omnichannel strategy can effectively use email, SMS, push, chatbot, social media, etc., and offer uninterrupted experiences to consumers. When combined with well-designed automation scenarios, omnichannel increases customer satisfaction and profitability.
Marketers can gain significant omnichannel benefits with ChatGPT. Let's examine it in terms of the strategy and channels used.
Segmentation and Personalization Ideas from ChatGPT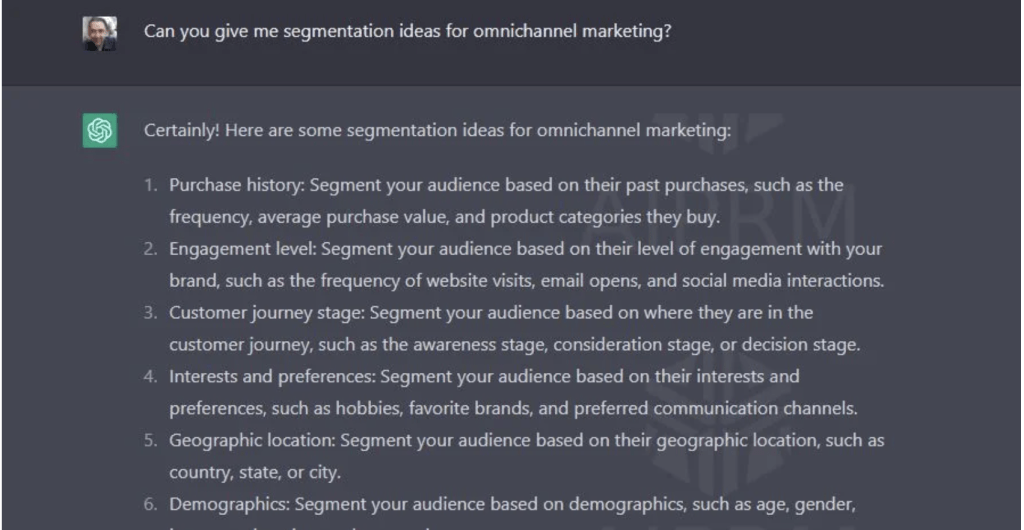 The way to provide better experiences to customers is through personalization. In this context, sector-specific segmentation and personalization ideas can be questioned from ChatGPT. In addition, our smart friend can deliver useful information on the most used data labels or user specs for segmentation. Tactical segmentation hints can also be explored. Successful examples can be requested in this regard. For the success of the campaigns, segmentation with ChatGPT will be among the important resources of the near future.
Using ChatGPT for Email Marketing
ChatGPT can be an important resource in e-mail marketing, especially in content creation. Ideas for notifications and campaigns can be received. It can be used in the preparation of sequential e-mail contents in automation setups. In addition, information can be queried from ChatGPT to control the factors that will affect e-mail marketing performance. We experience that ChatGPT gives answers even for the problems experienced.
Benefiting From ChatGPT for SMS Marketing
ChatGPT is also an important source of content for SMS Marketing. SMS marketing is still widely used in certain regions and sectors. Content marketers know the challenge of creating content for a short text field. At this point, ChatGPT can be used to create content as well as campaign ideas.
ChatGPT and Push Notifications
Push notifications also allow messages containing content such as pictures, audio, and video to reach mobile phones. It makes campaigns more attractive. In particular, it also activates the advantage of location. Idea support can be obtained from ChatGPT, especially for location-based push campaigns. You can even consult ChatGPT for the first information about this little-known channel and get an idea about the key success criteria. The creativity of ChatGPT can also be used for push content.
How ChatGPT Supports Marketing Automation
ChatGPT is also a resource for omnichannel marketing and automation, ensuring the best experiences for customers. Marketing automation delivers optimization, especially for routine and repetitive operations. It provides marketers with more time for strategic plans. Automating campaigns enables more effective use of many channels. In addition to getting campaign ideas from ChatGPT on marketing automation, the channel and tactics information to be used can also be queried. It can even be detailed about sectors. You can also get support from ChatGPT in the preparation of the content to be used in the automation platform. For example, let's say you are preparing an e-mail automation series. You can set an example from the "Welcome" message to the "We Miss You" message or the content of the campaign. The trick here is to use ChatGPT as a recommendation tool. It is very important in terms of information accuracy and originality that it is always shared with human control and touches.
What will be the Future Effects of ChatGPT on Omnichannel Marketing?
Content editing is one of the prominent features of omnichannel marketing tools. We foresee that there may be omnichannel integrations with ChatGPT in these tools soon. In this context, the creation of notification and campaign content will accelerate. In addition, ChatGPT will support brands in better personalization and improving customer experiences. Especially since it will support marketers in operational issues, it will also increase the time for strategic management. The integration power of ChatGTP will also be an advantage in creating holistic experiences across omnichannel channels such as e-mail, chatbot, and social media. Of course, it is predicted that it will support more effective omnichannel marketing with the data and behavioral analyses it will make. With ChatGPT, omnichannel setups will be among the applications that marketers benefit from.
Contact us for your questions about omnichannel marketing and automation.