Journey Manager
Automation: the single yet most powerful habit for a better customer experience. Experience the brilliance of maximizing returns.

Manual-what?
Marketing automation.
Rethink your customer journey and discover the ways to acquire, engage and retain customers with data-driven marketing power. Streamline marketing processes, such as email, SMS, push notification campaigns, or other marketing activities through real-time customer behavior.
Automate your flows for fresh customer experiences. Focus on creativity and productivity with advanced automation capabilities. Ensure that the customer experience is consistent and profitable at each stage. Combine the creativity of customer journey design with the data-driven approach of ROI optimization.
Journey Manager
See the world as customers do.
Take cross-channel actions.
Connect the dots and fine-tune the data.
Multistep, multi-action and long-running flows.
Pull data from all your different sources.
Analyze and act on real-time events from multiple sources
Create automated customer journeys that convert.
Use metrics and a governance system to meet rapidly changing customer expectations. Explore what is exactly working and what's not. Build trackable results and beat the growth with enriched data analytics.
3rd party integration lets you look at customers' behavior behind the scenes. Define the custom rules and specify event detection and targeting rules to acquire, retain and sell to customers more effectively. Experience the transformational power of revenue growth techniques.
Get your customers to take action with hyper-personalization.
Build a customer journey that engages your audience to take action with hyper-personalization. Create different paths for each interaction. Compile customer journey data into one place and score the leads. Apply various scores to each interaction according to your rules. Track and report in real-time.
Provide a more personalized and responsive experience for the customer and inspire them to take action. Nurture lasting relationships with your customers using customer retention tools, cultivating loyalty that stands the test of time.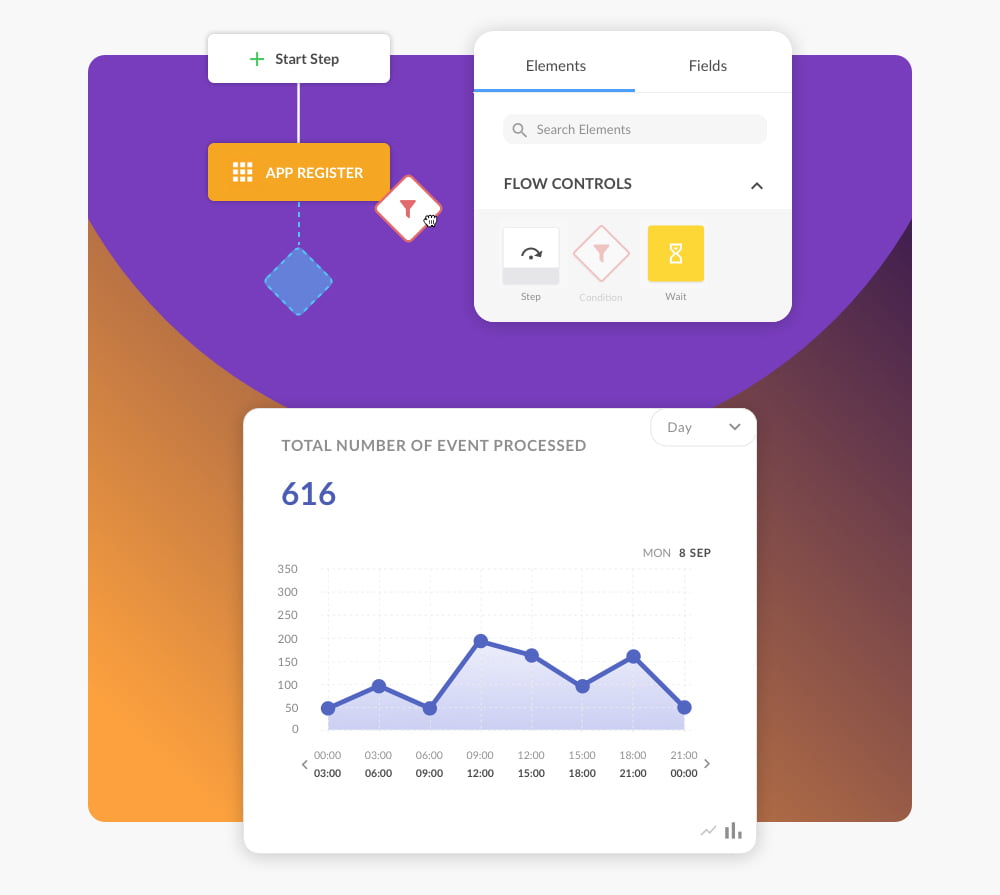 Save valuable resources with marketing automation.
Surface the most effective ways to tailor your flow creation. Explore the patterns in what everyone is clicking -build an optimization powerhouse on an excellent ROI. Take the stress out of ancient marketing efforts and make complex flows simple that are working today. Achieve desired action or conversion.
Use simple and powerful workflow automation templates –or create a new automation with drag and drop. Just with a few clicks, it is ready to go. Take advantage of far less overwhelming and far more boosted operational efficiency.
Every company needs good marketing automation.